Typically, black portrayal in white media proves a medley of stereotypes. From the welfare mother, to the jezebel, the mammy, the buck, tom, sapphire, and tragic mulatto, the black body remains confined to the caricatured imprisonment of the oppositional
gaze.
OWN's new series Checked Inn strikes a new chord in black representation. The series focuses on black power couple Monique Greenwood, Glenn Pogue, and their daughter Glynn, as they operate Akwaaba–a bed and breakfast named for the Swahili word meaning "welcome."  Greenwood, a former editor and chief for Essence magazine, left corporate America to pursue her dream of operating a bed and breakfast.  
The business started in Bed-Stuy Brooklyn, with the purchase of a Brooklyn mansion and has now expanded to four additional locations in DC, Jersey, Pennsylvania, and New Orleans. Having stayed at the Brooklyn location numerous times, I can attest to Greenwood's masterful eye and ability to espouse hospitality and elegance. The product of a black couple married for almost thirty years, their business, like their show, is a personification of black excellence.
Here are a list of positive portrayals from the show:
The portrait of black women donning their natural hair dos: Monique  
Greenwood the black woman who owns and operates Akwaaba, dons a natural hairdo. This illustrates that assimilation dissolves when you work for yourself. I also appreciate seeking the numerous black women featured on the series, from the staff to the guests, also donning natural hairdos.
Personifying a Black Business that "looks" black: One of the most valid critiques of black business is their dedication to seeming "universal." Thus, It is heartwarming to see that Greenwood employs an all black staff. Greenwood illustrates the premise of black business, not only to place money in the black community, but to employ black people.     
Positive Portrayal of Black Men: From  kind and gentle Akwaaba owner Glenn Pogue, to Chef Shawn, to the male husbands who come to Akwaaba to reconnect with their wives, Checked Inn features a mass  black male portrayal that counters the negative portrayal seen throughout the media. In a world where black men are portrayed as habitual cheaters, innately violent, vulgar, and insensitive, it is a pleasant surprise to see black men portrayed as they are—royal.
4. The Various portraits of black love: Owned by former Essence editor and chief, Monique Greenwood, Akwaaba a bed and breakfast proves a platform for a weddings, couple reconnection, girlfriend getaways, and solo escapes. The series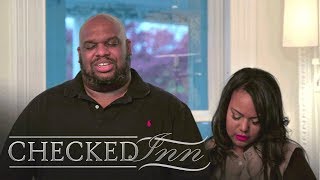 features all of the above, but it is especially resonant in its pleasant portrait of black couples.
Viewers witness a couple who recently lost their teenaged son suddenly, find comfort in their community following their unimaginable loss. This image is powerful because it lacks the presence of a white savior, instead proving that blacks can be their own hero.
I would negligent to not point out that the black savior borders a resurrection of the "mammy' figure in one episode where Greenwood plays advisor to a non-black couple engaged for eleven years. Given that black businesses post integration will entertain non-black clientele, the choice to feature this on a series seemingly centered on black entrepreneurship, illustrates the issue with black presence on a white media.
Nevertheless, this criticism is a reflection of the transition from real to reel, and not of the empire Greenwood and Pogue have built. In the same breath,  while it is certainly a joy to see the positive images that compose Greenwood's daily life featured on television, the true praise goes to Greenwood for making this portrait of black excellence a reality long before making it to reality television.
….
Akwaaba– while a beautiful property with mouthwatering breakfast and a charming Jacuzzis– is most resonant as a black business owned by a black family not seeking economic capital, but the sentimental capital in bringing joy to others and creating a space for black people.
Cheers to a second season and many more years of weddings, vacation stays, girl's weekends, and couple reconnections!
Which Akwaaba will you stay in, in 2018?
Black Power! ❤