H&M recently made headlines for a derogatory image that featured a young black boy in a green hoodie that read:
The coolest monkey in the jungle.
This degrading image depicts how the world views the black body simultaneously proving reminiscent of the 2011 Soho billboard that featured a black child in asserting
the black female womb as "the most dangerous place for an African-American." The use of the African minor in both instances illustrates a sadistic assault on our collective–an assault that births the sullied perspective that shapes black life long before conception.
Actualizing "The Coolest Monkey in The Jungle" 
The featured child evokes Benga, a black youth featured in what is now known as the Bronx Zoo. In Medical Apartheid, Harriet Washington delineates Benga, a sun-kissed African youth of a small stature, distinctive teeth and ears, as featured alongside "Dinah, a
gorilla, and an orangutan called Dohung" (Washington). Washington referenced Benga as playing a major role in what she calls "scientific racism." To juxtapose Benga to the small black child featured in H&M's ad, exposes scientific racism as ever-present in media, but more so unveils media as a science that inevitably intertwines racial ideas to ensure that whites feel good and blacks feel badly in visually consuming these images. The result is the worse kind of violence, the one that does not happen with the hands, or mouth—but one that sears through the eyes and tears through the soul, irretrievably burning the flesh.
This type of assault culminates temporary visibility in a contemporary climate—an assault that prompts temperate upset but fails to disrupt the capital that thrives in black consumerism.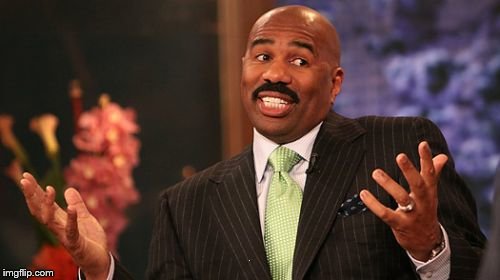 This wound festered via the world white web, imbued increased agitation in a Steve Harvey clip  many consumers aligned with the H&M featured image. In the clip, Harvey makes light of selling out for the "right" price–proclaiming that he would be "the best monkey they ever seen" for four million dollars. The audience can be heard laughing as Harvey begins to imitates a monkey for what I am sure is far less than four million.  Pardon me, but I fail to find the humor in selling out. Perhaps the most violent part of this portrayal is Harvey stating  that " black people would be so embarrassed."
This clip in execution and content was extremely embarrassing, illustrating the context to which violent images like the one seen with this young black child function permissibly. It also illustrates that while limited to white letters on a green shirt in the H&M image, white media actualizes "the coolest monkey in the jungle" in melanated folk like Steppin' Fetchit, Steve Harvey, Martin Lawrence, Terry Crews, Eddie Murphy, Tyler Perry, The Wayans, Omarosa, Tiffany Haddish and other
"skinfolk" who willingly strive to be "the coolest monkey in the jungle" in reducing themselves to caricatures for a coin.
The jungle is of course the white media– a modern circus that displays the exploited black body as beast to stroke the white ego at the expense of black collective integrity.
"The coolest monkey in the jungle" spits in the face of the black ancestors and elders who made the ultimate sacrifice to transition the black body off the auction block, an auction block so many willingly mount to make a dollar. A dollar being not a widow of opportunity but a piece of paper that embodies a value solely dictated by the  white collective.
Examining "the coolest monkey in the jungle" as actualized in other facets of media, begs the question as to whether folk are as upset about the H&M image as they are about other demeaning representations of the same negativity?
Furthermore, in examining black bodies that assume placement as monkeys in white media, this issue then is not so much being called a monkey, or a n*gger, but being treated as one. So whether wearing a shirt with a derogatory statement, hypnotized into mistaking labels for liberation, or appearing simple or belligerent for a check, the black body remains imprisoned in the contemporary circus called media. This circus easily becomes a means to substantiate treating blacks like monkeys and n*ggers in substantiating why local businesses check receipts, demand their black consumers order from behind an bullet-proof glass, or follow blacks around the store.
Deserving the Black Dollar
The contemporary manifestation of the exploited black body is a socially reproduced image of our past that evokes the troublesome `political juxtaposition between black beings and animals–and a poisonous image produced by H&M to garner attention in creating controversy to drive sales. Namely, while there are those who will never (or pretend not to) patronize H&M because of this overtly racist image, there are plenty that will shop at
H&M just because they featured this anti-black image.
While an insult to the black collective, this advertisement proves symbolically profitable to whites. Thus, the advertisement proves why whites should patronize H&M, and illustrates why H&M, like all businesses anchored in achieving a capitalistic advantage at the expense of furthering black economical disenfranchisement, does not deserve the black dollar.
In the same breath, the issue with the revelation of H&M's prejudice is that it resulting outrage is ephemeral. Like Dove and Nivea, H&M reserves a place alongside the recently ousted white franchise that function as isolated incidents of single white businesses that do not deserve black support. These incidents are of course not isolated, but smoke that signals a flame of racism and prejudice that remains ubiquitous despite contemporary culture's attempt, amidst literal bullets flying towards black bodies, that racism is an individual not a collective problem.
From Consumership to Change
Blacks have enough consumer power to, at the very least, produce chance. Yes, it is far
harder for blacks to start businesses due to our economical disenfranchisement and systemic suffocation. But this disenfranchisement does not stop many of us from overindulging in luxuries that transform"ours" to  "theirs." I say this not to admonish, or castigate—as I too have been guilty of overindulging and over prioritizing materialism in my not-so-distant past. This is not to say that blacks can not and should not have "nice" things, but that blackness and economic integrity is that "nice" thing we deserve as a collective.
For this reason, H&M, one of many companies who creates products from third-world slavery to exploit economic slaves of the systemically disenfranchised, will probably never face the scrutiny and boycott it deserves. Brands that have become staples in a consumer culture are praised for their toxicity and production of addicts, called shoppers, who believe products of high value are worth more than virtue.
NBA superstar Lebron James used his platform and influence to restore black virtue in shifting a negative image into one bearing a  
positive message. James posted an edited version of the image  where the Green sweatshirt reads "king of world." This was a powerful image that I would like to take a step further. It is one thing to speak of being royalty, and there is another thing to act like it. So I ask you: Would a king or queen trust just anyone to place diamonds in their crown? 
No.
Thus, if we truly are royalty, we must exercise discretion to whom we let drape our temples and crowns.
We as a collective can get mad at these images, or allow them to serve as an inside tip to what most (if not all) of these non-black producers think of the black consumer they exploit. Simply put, would you rather patronize someone who sees and treats you as a monkey or a king?
Furthermore, if we, the black collective are going to be mad, let us be mad at ourselves for expecting of other factions what we we owe to ourselves.
Here is a modest list of black owned companies to support instead of those who fail to see us as human.
Black Power ❤