Degrassi Alum turned Rap superstar Aubrey "Drake" Graham recently joined the contemporary feminist performance with a new video for "Nice For What." The song, a mash up of Lauryn Hill's hit "The Ex factor" is a page in the New Orleans bounce sound, but the video is making waves for its atypical visuals— well, partially. The video is inundated with women dancing and dressed in conventional glamor, but these female props are deliberately placed.       
The video stars Issa Rae (Awkward black Girl/ Insecure), Zoe Saldana, her husband and three sons (Drumline/Avatar), Yara Shahidi and Tracee Ellis Ross from Blackish, model Jourdan Dunn, actress Rashida Jones, ballerina Misty Copeland, comedian Tiffany Haddish, Swedish models Victoria and Elizabeth Lejonhjärta, and actress Letitia Wright from Black Panther. The video intertwines these images of black women with white and non-black women, whose names I will purposely exclude from this post to structurally illustrate a message antithetical to the one conveyed in Drake's video for recently released track "Nice for What."
Directed by twenty-two year old Canadian director Karena Evans (Drake, God's Plan), the video is overtly a portrait of "girl" power, an obvious placement of Drake alongside the contemporary woman in the #metoo movement. But while appearing to do "God's work" or enacting "god's plan" Drake actualizes a white female supremacy guised as a pushback against white male supremacy.   

Please allow me to state for all those quick to render my assertions  the ramblings of an angry black woman, that my argument is not that these "women" do not deserve to shine. This is not my assertion nor my concern. White and non-black women of color inevitably shine in juxtaposition to black female invisibility. My criticism is that this exclusion is veiled in an appropriative unity that is violently displayed in and
as vanity.
This video like all representations of black or "othered" people is inundated by biracial and lighter skinned people—in front of and behind the scenes. This white female supremacy that anchors this display of seemingly progressive work is perhaps best illustrated in the exclusion of the sampled artist Lauryn Hill— an absence that is both appropriate and disturbing.
Hill's absence is disturbing in that there is virtually no acknowledgement of Lauren Hill, though her voice and the images of the few featured black women is what stands out about the video—as they visually illustrate the antithesis to a presence that continues to be reduced to stereotypes and demeaned for money and laughs. Even if Ms. Hill declined a cameo, a close up of her picture, a snippet from the video for the sampled song, or a close up of the classic album that featured the sampled song, would have sufficed to pay a necessary homage to Lauryn Hill representative of the black female form that illustrates the pre-woman literacy.
Lauryn Hill embodies what black Canadian scholar Katherine McKitterick calls "an absented presence" in her recent text Demonic Grounds. McKitterick defines absented presence as that "place between memory and forgetfulness," a suspension common for black bodies.Absented presence is perhaps the most relevant phrasing to encompass the black female relation to the woman concept.
Namely, Hill's exclusion personifies black female omission from the "woman" labeling—an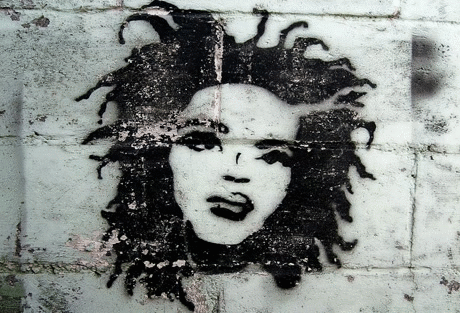 exclusion endured since black female arrival in America—an exclusion that as depicted in the video, paved the way for women like Misty Copeland and Rashida Jones to represent the black female form simultaneously eschewing and exposing continued black female exclusion. Issa Rae physically embodies many of the same traits as Lauryn Hill, and while bearing a processed mind, it is respectable that Rae attained visibility donning a natural hairdo that is strides away from the "socially acceptable" curls of the racially ambiguous. So to see Rae in this video donning longer and straighter locks, appears a deliberate intention to make her look more "woman,"—less Lauryn Hill and more Lauren London. This physical depiction is
an embodiment of the drastic whitening and aesthetical dilution demanded of black female bodies that will still be eliminated and overlooked as women regardless. The mix up that dilutes Hill's soulful vocals, performs a similar function,her rhythm and blues sound mutilated to sound like a chipmunk or pop-esque version of the original performance.
The title of featured song "Nice for what" is also an interesting commentary on the age old perception of women. As girls the female body is playfully conceptualized as "sugar and spice and everything nice—" and as women the givers of live and a token of pleasantry, silent strength and exhibitors of domestic mastery. However, when has a black women ever been considered "nice?" Though the African spirit is seemingly innately forgiving, black women are seldom acknowledged as kind or nice—instead we are deemed "difficult," "evil," and "moody." This also stems back to colorism as the darkness attributed to the "black" label, is not just about hue but temperament. Black
women are seen as masterful complainers, bearing a scowl where women bear a smile. This is of course untrue but also an oversimplified perception regarding the reality of the black female experience.
In the limited photographs of Harriet Tubman and Sojourner Truth, neither wear a smile. I am sure that if Marie Angelique, a black woman buried in the oblivion induced by Canadian denial of her existence and execution, were photographed she would also bear a facial expression reflective of her life experience, which was not one of ease. Thus, in the event that a black woman is not smiling, this is not because black women are evil, but because the black female body is thrust into an impossible reality yet castigated if she does not plaster a smile on a face that masks 400 years of mistreatment and abuse.    

The smile and conventional "niceness" demanded of black woman is of course not for the black woman, but to ensure the comfort of those who wish to look at but not truly see the black woman. This white supremacist society likes to see the black female smiling, for the same reason that they approve of videos like "Nice for what" where the black female body is alongside those whose privilege she will never mirror—not because black female happiness is even partially considered, but because looking at the smile, just like looking at the black female in glimpses between white and non-black counterparts allows the black female form to remain invisible.

So Drake's invitation to women in "Nice for What" is to engender an exchange from "nice" to "spice," also speaking to a privilege that non-black woman have in negotiating identity- a privilege he also enjoys as a man who is silently black, who yo yo's between mama's boy, champagne papi, philander, and as seen in the video for God's Plan, philanthropist. I say this not knock Drake the man, but to confront the reality of how a man of his circumstances functions and why it makes sense that Drake is the platform where this erasure and violence against the black woman and the black collective takes place.
This is not to ignore the reality that even the racially ambiguous and "mixed" blacks are

mistreated with regards to the woman label, but to state that in the contemporary climate the biracial black often stands in for the black body, for example, Yara Shahidi who is featured in the referenced video, on Blackish and Grownish. The function of the biracial black is to offer pseudo relief to the black body from obscurity while festering said obscurity with pseudo representation of blackness deliberately selected by whites– master deceivers who employ biracial blacks not because of their beauty, talent or exceptionalism, but to centralize whiteness packaged as progress.
Depictions like the pseudo black/white woman alliance and the images that compose the visual text  seen in the Drake video are reminiscent of a cup of black coffee, lighted and eventually adulterated with milk, cream or a little bit of both. For the black women who consider themselves fans of Drake, or of pop culture in general that is making an aggressive effort to erase the black female body it is imperative to note that though stars illuminate on our dark sky—the sky does not need stars to be a sky, but a star has no place without a sky. I say this to say that we as a collective have power over our narrative our sky and what "stars" illuminate this sky, and this video, although seemingly innocuous, is an exhibition of seized power showcased and misappropriated as entertainment.
Black Power ❤